The Band:
An established heavy metal band from Cleveland, OH. From European festivals to small concert clubs, Eternal Legacy's goal is to give the same highly energized show to everyone who attends their performances. Eternal Legacy's metal does not fit under any lame sub genre and is not just for one trendy group of people. It is for everyone who eats, sleeps, and shits heavy metal. Eternal Legacy does not set out to give concert recitals or show off any kind of nonsense to the masses, but gives metalheads what they want, heavy music, good catchy tunes, extremely energetic performances and something that let's a metalhead know what they are a part of. Eternal Legacy does not think of their listeners as fans, but friends. If this statement pertains to you, then you are what Eternal Legacy is all about. Join us!

---
Jason Vanek (Vocals & Rhythm Guitar):
Birthplace: Parma, OH

Birthdate: 7-13-83

Musical Influences: Jioti Parcharidis, George Lynch, Titta Tani, Don Dokken, Lord Tim, Jack Russell, Mercyful Fate, Triumph, Anthrax, Priest, Megadeth, Metallica, Armored Saint, Metal Church, Last Tribe, Blue Oyster Cult, Iron Maiden, Labyrinth, Iced Earth, Helloween, Gamma Ray, Iron Savior, Black Sabbath, Rush, Pantera, Saga, Skid Row, Satan, Ghost just to name a few, there's many good bands.

Hobbies: Recording Engineer, Motorcycles, Dirtbikes, Snowmobiles, Anything and Everything to do with music!

Favorite Drinks: Heineken, Warsteiner Octoberfest, Coffee & Tea.

Previous or Bands I've Played With: Mercinary, Metal Rush, Wretch, Ego

How Music Slaughtered my Life: Growing up I was always fascinated by many different styles of music. Throughout my early years of school, I studied music theory and played many different instruments, along with introducing myself to the recording world. I started playing guitar at the age of 12. After a few years, I began playing in the band Mercinary. It wasn't long before I found my true style of music, listening to bands like Maiden, Metal Church, Sabbath, Anthrax, Pantera, Iced Earth & Metallica which changed my style and influenced me vocally & musically. Set out to better my knowledge in music, I also took vocal lessons. From there I began writing songs for Eternal Legacy. I dedicate my entire life to music!
---
Shaun Vanek (Lead Guitar & Backing Vocals):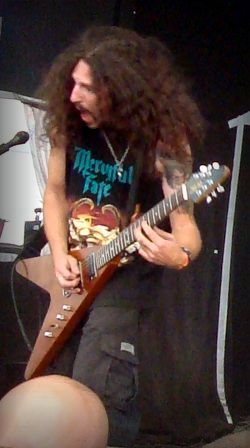 Birth Date: October 23rd, 1985

Birthplace: Broadview Hts. Insane Asylum Cleveland, Ohio

Influences: (Abserdities) People/ Events that give me a reason to be pissed off or laugh so I can write music. Horror movies, and Heavy Metal/ Rock n roll.

Musical Influences: Heavy metal with groove, crunch, solid vocals and high in energy. Cliff Burton, Friday the 13th and Beer!

Bands I've played with: Manimals, Wretch, Cellbound, H.A.T.E, Breaker
---
Tim Frederick (Bass Guitar & Backing Vocals):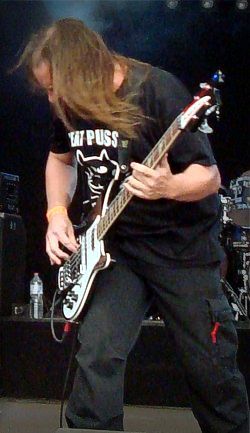 Birth Date: July, 9, 1972

Birthplace: Warren, Ohio

Musical Influences: Geddy Lee, Dennis Dunaway, Steve Harris, Cliff Burton, Iron Maiden, Alice Cooper, Black Sabbath, Thin Lizzy, Ghost, Sabbath, Rush

Other Bands: Detrametal, Decimator, Blues on Steroids, Wretch, Dirty White Boys

Story/Other Shit: Been playing since 1986, I played in many bands including opening for Pantera in '91. Then metal went bad in the 90's.
---
Steve Dukuslow (Drums):
Birth Date: March 7, 1986

Birthplace: Parma, Ohio

Musical Influences: John Bonham, Vinnie Paul, Chris Adler, Any and all METAL